Download and install a BitTorrent client
There are lots of good BitTorrent clients out there. We favor qBitTorrent because it is open source, lightweight, fully featured, and available for Windows, Mac, and Linux. And it can be bound to the VPN interface.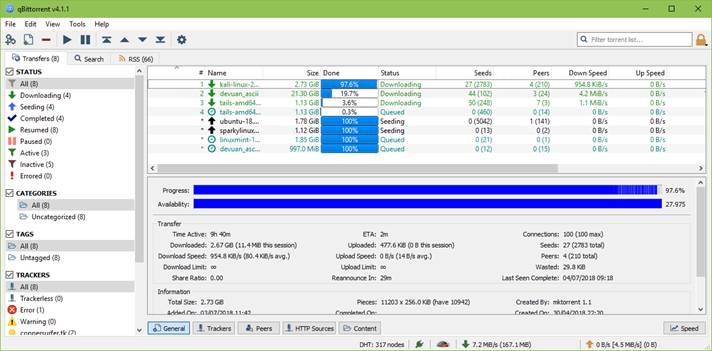 Visit a torrent site
If you are not sure where to look, Google (or better yet, DuckDuckGo) is your friend. Many ISPs block torrent sites, so there's a very good chance you'll need a VPN running just to access them.

Although not true of all sites, many public torrent sites are quite "spammy." Pop-ups and inappropriate ads can be kept under control using a good ad-blocker.
Start downloading a torrentOnce you have found the content you want, click on its magnet link or download its torrent file.Please note: The IP address shown above belongs to our VPN server and is not our real IP!Magnet links contain all the information needed in the link, rather than in the .torrent file. They are, therefore, a boon for torrent sites, as they don't need to host .torrent files. It makes little difference which option you go for from the perspective of the end-user, though, as all modern BitTorrent clients support both methods.
SeedGood netiquette demands that you seed torrents you have downloaded so that other users can also download them. Some communities even make it a requirement to participate. To do this, simply leave the torrent running in your BitTorrent client after you have finished downloading it.It's worth remembering that the Peers tab of your BitTorrent client provides graphic evidence about why you need to use a VPN when torrenting. It shows you the IP address of every other torrent user who is sharing (downloading or seeding) a file.Scary stuff! But if you are using a VPN, you have nothing to worry about, as peers will see your VPN server's IP address instead of your real IP.
Is Torrenting Illegal?
When it comes to legality, torrenting falls in a grey area. Torrenting is not an illegal act but, if you download unsanctioned copyrighted content, it is illegal.
It is found that 98% of the content downloaded via torrenting is either pirated or is copyrighted. It includes TV shows, movies, games, music, software, and more. Downloading such content for free is a violation of copyright laws, and thus it is illegal.
Moreover, the local laws of the country where you live also determine the legality of torrenting. The table below shows different countries and their narrative about torrenting: 
What Are the Risks Associated With Torrenting?
Though torrenting is an excellent method for downloading large files, it brings great risks along with it. Torrenting in most countries is considered an illegal act. If the higher authorities find you downloading torrents, legal action will be taken against you. Like recently, in the UK, the netizens who have illegally downloaded and shared the movie Ava are threatened with legal actions. In fact, the police have arrested three people for running an illegal streaming network. 
Besides this, other risks come along with torrenting. The most prominent ones include:
Speed Throttling Issue
Your ISP throttles your connection to regulate the network traffic and to decongest the network. Torrenting requires a lot of the bandwidth to download the torrent files. Your ISP, who's constantly monitoring your network when it learns that you're downloading torrents, starts throttling your network. This will ultimately slow down your browsing and downloading speed. 
Copyright Trolls
Suppose you reside in a country that follows mandatory data retention laws like in the US. In that case, the ISP shares your torrent downloading information with the higher authorities and with the copyright owners. By tracking your IP address, they can catch you for downloading the copyrighted content. This can lead to penalties. For example, in 2012, a lady in Minnesota was fined $220,000 for illegally downloading 24 songs.
Malware Invasion
When you download torrents from different torrent websites, not all the files you come across are safe. The torrent files are shared by various seeders that you download onto your device. Since anyone can join the swarm, the threat actors send the malware embedded files. Downloading any such file can infect your device with malware, spyware, or viruses and risk your data security. 
Zero Anonymity
During torrenting, your IP address is visible to anyone who is part of the file-sharing process. Not all people present on that network are downloading files. Some might be there with bad intentions. In other words, the hackers might look for potential targets. By tracking your IP address, your data and personal information can be easily accessible to hackers. 
Moreover, it is not just threat actors, but also the copyright owners can filter out your IP address, which can lead to data surveillance and monitoring.
Falling victim to any of the risks mentioned earlier can put you in great trouble. If you want to enjoy some peace of mind during torrenting, you should follow the tips to download torrents safely.
How to Download Torrents Safely?
Considering the risks mentioned above, it has become imperative to look for ways to download torrents securely from those threat actors. The following are some of the best tips you should practice to ensure safety while torrenting. So, here you go:
Use a VPN
Among all, the best way to safely download torrents is to use a reliable VPN for torrenting. The best VPN for torrenting comes with all the essential features that make your torrenting experience worth amazing. They provide unlimited bandwidth, an extensive server network, P2P-optimized servers for fast speed, and various privacy and security-enriched features that allow you to download torrents securely. 
A VPN for torrenting uses secure encryption ciphers and VPN protocols like OpenVPN, IKEv2, and WireGuard that protect your data traffic from all snooping eyes. Your traffic first goes to the VPN server, so your ISP won't see your online activities. Also, since it hides your IP address, the peers in the P2P network or snooping eyes cannot detect you.
A VPN compatible with torrenting comes with various security features such as a split tunneling feature, and a kill switch enhances your torrenting experience.
Use Reliable Torrent Clients
A torrent client enables the users to share the file with peers using the same protocol. By using a torrent client, you can ensure a fast and secure downloading process.
There are several different torrent clients out there; each of them possesses various features and functions.
However, not all of them are worth using as some have serious vulnerabilities, such as intrusive pop-up ads, while others contain malware that can harm your device. Using such torrent clients can ruin your overall downloading experience. Hence, it is recommended to use reliable torrent clients to download torrents safely. Some of the best torrent clients include:
uTorrent offers impressive torrent-friendly features that make your experience worth amazing. But, the biggest drawback of using Torrent is that your downloading experience would be interrupted with intrusive pop-up ads.
BitTorrent is the best option to use. It offers incredible features such as scheduled downloads, comments, and more.
For additional security and online protection, don't forget to connect to a VPN before using these torrent clients.
Use the Best Torrent Websites
Like torrent clients, you should also use the best torrent websites. As the name suggests, these websites help find the suitable torrent file you are looking for to download. Some of the best torrent websites include:
The Pirate Bay is the king of torrents because of its extensive content library that covers all content categories and helps download torrents quickly. But since it contains copyrighted content, it's banned in several regions.
Kickass Torrent also consists of an extensive content library that allows you to download torrents from various categories. Its servers got seized in July 2016, and the website became inaccessible to the users.
LimeTorrents hosts torrent files from other popular torrent websites and lets you download torrent files in any category. It is safe to use because it doesn't log the user's IP address, but it is blocked in different regions because of pirated content.
It's advisable to use a VPN while using torrent websites because most don't provide ad protection. Thus, threat actors can trick you into clicking and downloading some malicious stuff. 
Cap Your Uploads
Another best way to avoid the risks of torrenting is to cap your uploads. By limiting the clients' seeding bandwidth, you can protect yourself from copyright violations. When you use a VPN and limit your uploads, the copyright owner won't know who was the mastermind behind distributing the copyright content, and they won't ever track your IP address to catch you.
Here's some more information you should know about torrenting.
Can You Download Torrents Without a VPN?
If you're torrenting without a VPN, your ISP can see your online activities, including the websites you visit and the contents you view and download. When the ISP learns that you're torrenting, they might throttle your connection, and as a result, you experience a slow internet connection. Thus, it isn't advisable.
How to Configure Your VPN for Torrenting?
As mentioned earlier, using a VPN is the best solution to enjoy a safe and secure torrenting experience. But you need to configure your VPN before you start with the downloading process. The following mentioned below are the most crucial VPN settings that need to be configured. 
Test your VPN for different leaks (IP, Torrent IP, DNS, and WebRTC leaks) to ensure that it provides a top-notch security level. 
Check that the automatic kill switch feature is enabled and working correctly. It is a helpful feature because it prevents data/IP leakage when the VPN connection drops. 
Ensure that your VPN is set to AES-256 bit encryption.
Go to the setting menu and enable the split tunneling feature. It is a helpful feature that helps to speed the connection while you're downloading torrents. 
Ensure that you connect to the P2P-optimized servers as these are specially designed for torrenting and make your downloading experience fast. 
Select a secure and fast encryption protocol for torrenting like OpenVPN, WireGuard, and IKEv2.
By enabling all these features, you can enhance your security and privacy level during torrenting.
Can I Download Torrents Publicly?
The majority of people use public trackers to download torrent files through BitTorrent. However, it is better to download torrents using private trackers instead of public ones. It's because they guarantee a fast and secure torrent downloading experience. Unlike the public trackers, the private trackers only allow a specific group of individuals to join their network and contain verified torrent files, making it a better option to consider.
Can I Be Jailed for Torrenting?
It depends on the local laws of the country where you are living. In some countries, torrenting is legal, while in others, it is illegal. In the UK, the penalty for torrenting is a fine or imprisonment up to ten years by the Crown Court. Also, if you download a torrent file that is not open to the public and violates copyright laws, then you can either face a fine or, in extreme cases, end up in jail.
Can You Get Caught While Torrenting?
Torrenting is a risky business, and authorities catch people for downloading and sharing unsanctioned copyrighted material.
The copyright holders, along with their representatives, look for people who download the copyrighted content. They often join swarms and track frequent torrent user's IP addresses. The ISPs help them by providing requested account details of the IP addresses caught involved in torrenting.
They send you warning letters, DMCA notices, and even drag the culprit to court where they're fined or, in extreme cases, end up in jail for piracy.
Name Countries Where Torrenting Is Illegal?
As mentioned earlier, torrenting laws vary from country to country. It might be legal in one region but illegal in another country. Here are some of the countries where torrenting is considered an illegal practice and can lead to penalties:
UK
Germany
France
UAE
Japan
Finland
For more information about different countries and their narrative regarding torrenting, consider the table above.
Does a VPN Protect During Torrenting?
A VPN masks your IP address and location and encrypts your data traffic to protect your identity while you download torrents. Moreover, the best VPN for torrenting uses many torrent-friendly features that boost your security while downloading torrents.
How to Spot Fake Torrents?
The torrent websites contain fake and malicious files that can harm your device and put your privacy at risk. Thus, it is better to be careful and try to spot fake torrent files. Here are some quick tips to spot fake torrents:
Check the seeders and leechers ratio. If it is pretty low and there are no comments on the torrent file, assume it is fake.
Be aware of EXE files, as malware can creep through these files into your system.
If you download any video file, it comes with AVI and WEBM extensions. If you have the file in any other format like WMA or WMV, then know that they are fake because this format is no longer in use.
By following all these points, you can detect a fake torrent and enjoy a hassle-free torrenting experience.
Final Thoughts
Undoubtedly, torrenting is a great way to download large files in a short time. But, there are always significant privacy and security issues associated with torrenting. For instance, there's a risk of facing copyright violations, ISP tracking that leads to throttling and downloading malware.
But, by practicing some effective methods, you can download torrents safely. The best way for this is to use a VPN. It not just hides your IP address but also encrypts the data traffic so no one can detect that you're involved in torrenting.
Other than using a VPN, you can also use antivirus software, reliable torrent clients, and websites to ensure a safe and secure torrenting experience.